As an Episcopal Church planter who founded King of Peace Episcopal Church in Kingsland, Georgia from 2000-2010, I remain very interested in the work of starting new congregations. Some friends and I drafted a resolution for the General Convention challenging the church to expand our church's capacity to plant new churches. You should check it out.
Here I want to dispel some common myths that I have run across in 18 years of working with church planting in the Episcopal Church. In place of these, I want to offer the truth I have observed, even if some of the truth is more than a bit inconvenient. I am pictured here baptizing a new member of the Body of Christ while at King of Peace.
Church Planting Myths
MYTH 1 – Church Plants Aren't Really Episcopal
Check out Grace Church in Yukon, Oklahoma and Our Lady of Guadelupe in Seattle and you will quickly discover that some very Episcopal churches that are among those traditional churches who received $100,000 grants through the churchwide budget.
An interesting issue though is that I have seen some push back around the church on the work funded through Mission Enterprise Zone and Church Planting grants from the 2012 General Convention that seems to have forgotten recent history. I was in the hearings that led to those resolutions and the whole goal (and the reason for excitement) was that Deputies and Bishops wanted to grant greater freedom in order to foster creativity. The idea was to fund some projects that point to new possibilities. So, yes, we are seeing some innovative projects like The Abbey in Birmingham, Alabama, which is a coffee shop with a church. That is perfect. The 2012 General Convention said clearly that we need to experiment boldly for the sake of the church. Those experiments have been taking place and we can see the fruit that new work is already bearing. (Pictured here is one of six baptisms on Pentecost at Grace Episcopal Church in Yukon, Oklahoma.)
Just don't buy the myth that new church starts don't look and feel Episcopal. This not only misses the work we did in Kingsland, but also the church plants started by colleagues like Susan Brown Snook at Nativity in Scottsdale, Arizona and Alex Montes-Vela at St. Mary Magdalene in Manor, Texas. I am just equally excited about the work done by my friend Jimmy Bartz at Thad's in Santa Monica, California. Thad's is a mission station doing work I am proud to find in the Episcopal Church. We need all of these ways of being church and more and one can easily show how they are all true to the best of our Anglican tradition.
MYTH 2 – Church Planting Harms Existing Churches
This seems like common sense, that a new Episcopal church would sap strength from any nearby Episcopal church. But as by design new church starts reach out specifically to those with no church home—usually in different age, ethnic, or socio-economic groups from those already reached—little crossover exists. This is not to say that no parishioner from an existing church ever wanders to the new church, but that this small amount of movement has no large impact. And at the same time, the missional focus of the new ministry is not without its effect on neighboring parishes. I know that prior to our starting King of Peace, Christ Church in St. Marys was 10 miles away and our nearest Episcopal neighbor. The congregation had discussed for years whether to build a new church building as the existing space was lovely, but tight on Sundays. After we got well underway, they started building and the county had two new Episcopal church buildings within a year of each other (Christ Church's new building, with the historic one in the background is pictured here). The spirit of taking a risk for the Kingdom of God is sometimes caught by other congregations.
MYTH 3 – Church Plants Are Too Expensive
With our preference for full-time seminary-trained priests, Episcopal churches carry significant start up costs. Yet, money invested on a church start quickly leverages other money. The vision and passion in a new church often attracts sacrificial giving rather than simply dues paying members. From a strictly monetary viewpoint (which I do not hold), we have found in the Diocese of Georgia that as new churches buy land and build buildings with money raised from the congregation, they come to enjoy assets well beyond the value put in by the broader church. This is not to say that starting churches is cheap, but that it is fiscally responsible to invest the money given to the glory of God to expand the work of Christ's Body, the church.
MYTH 4 – Church Plants Are Not Sustainable
Moving to self-sustainability is the goal held out for every new ministry. We will get you going, the denomination or diocese says, but you need to stand on your own feet as quickly as possible. Some new church starts will never reach this goal. This is just true. In every venture begun without assurance of success, the possibility of failing to meet the mark is ever present. Let us first acknowledge that there are two types of new ventures. Each can and should become self supporting, but there is more than one way to achieve that goal.
Traditional church starts can attract enough people to the new ministry to support that work within a projected period of time, whether the advanced planning sets that target at 3 or 5 years. After which the new congregation will begin to give back to the diocese.
But then there are new starts like Kairos West, a Community Center which is a cathedral ministry in Asheville, North Carolina, that offers a mid-week worship service in their store front. As long as a new ministry like this can generate the interest and excitement of others to support this work, even though they never attend, the ministry is self-sustaining. This model has worked for decades with campus ministries, for example, where no one expects the college students to give enough in offerings to pay the full costs of the ministry. So, let us broaden our definition of self-sustaining before holding out the goal for all new ministries equally. (Pictured is the Rev. Alex Montes-Vela with one of this year's Easter baptisms at St. Mary Magdalene in Manor, Texas).
MYTH 5 – Episcopalians Don't Know How to Start Churches
Across this church, I know gifted priests with proven skills in starting new congregations. At one point I spent 18 months assisting the Rev. Tom Brackett, the Episcopal Church's Missioner for New Church Starts & Missional Initiatives, in hosting online meetings for those interested in and already working in founding new congregations. Month after month, I met an ever broadening circle of practitioners who know this work well and carry out this evangelistic work in their day to day ministries. Tom continues that work. My friend Susan Brown Snook has also just written the book on Episcopal Church Planting, God Gave the Growth. Buy this book even if you never intend to plant a church. The strategies, approaches, and problem-solving
techniques she offers are good for the whole church.
The Truth
TRUTH 1 – Church Plants Form Outside In
I started by knocking on 100 doors and asking my new neighbors what an Episcopal church could do for Kingsland, Georgia. Then the new church set about to make ministry to the community its first priority. This is a common approach. In all cases, I find that new churches start by considering the context in which the new worshiping community will form and then matching the ministry to that context. Being context sensitive is not just a clever use of buzzwords, but a way of engaging the corner of the vineyard in which you plant. I find this common to the DNA of church planting work. This outward focus is Gospel driven and a compelling example to other churches.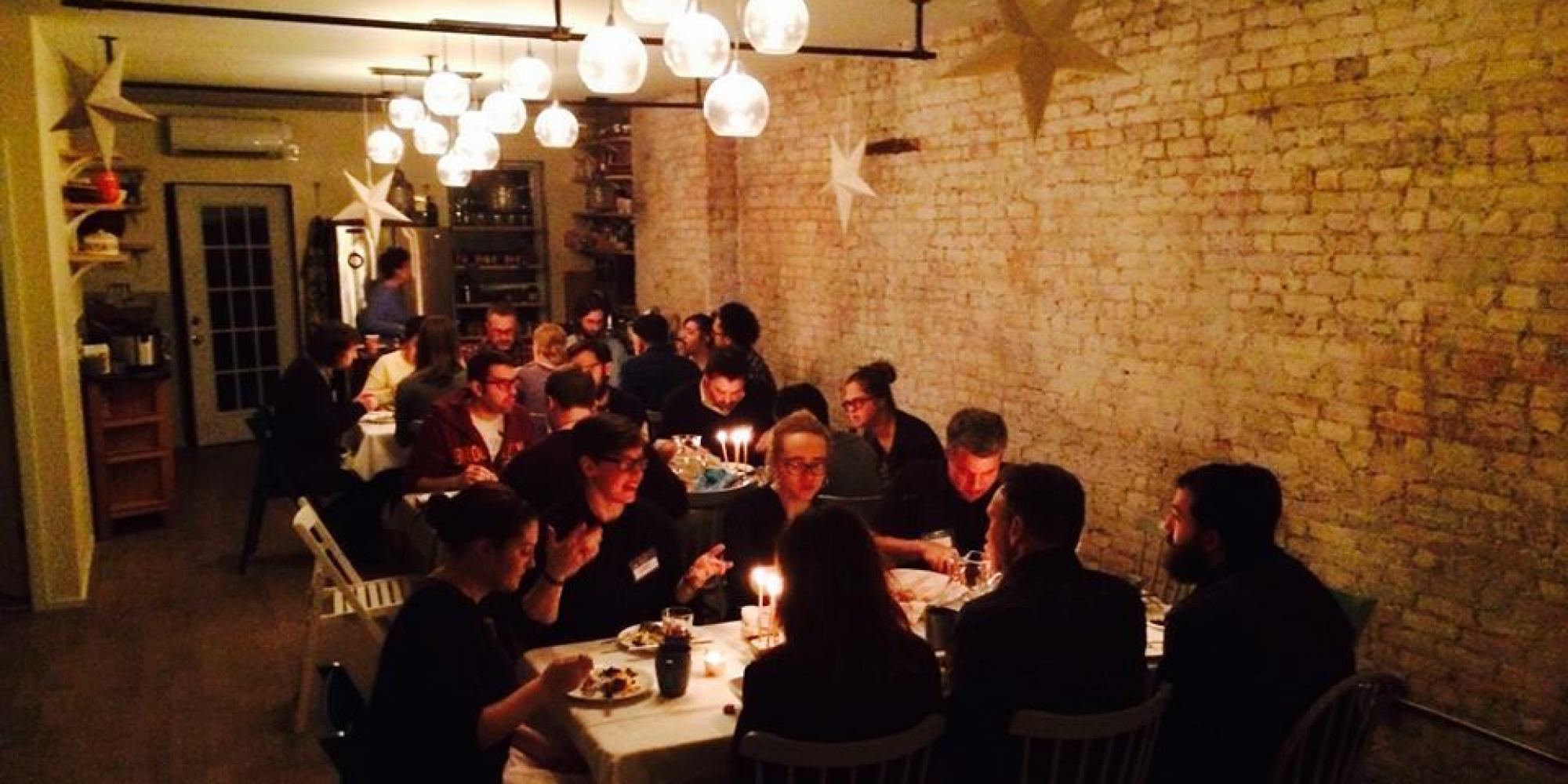 TRUTH 2 – Church Plants Are Demonstration Gardens
Because of that outward focus, church plants try new things. Sometimes new ministries try and fail, sometimes they try and succeed wildly. The failures as well as the successes lead to important lessons. This work then germinates new ideas for others to try. One example is the Lutheran congregation St. Lydia's whose dinner party style of worship has led to other congregations in different denominations to try dinner church.
TRUTH 3 – Church Plants Reach New People
Reaching new people is no accident. The work of church planting is not stealing sheep from other stalls, but leaving the sheep fold and going after the lost sheep. People with the passion to go into this risky enterprise do so out of a desire to reach more people with the love of God as found in Jesus Christ. As church plants focus on the demographics we are not reaching in an area, they come in contact with folks who would not otherwise enter the red doors of an Episcopal Church. This is good news.
TRUTH 4 – Church Plants Challenge Complacency
Every time I look at the statistics and feel some despair for the future of the church, I look to church plants taking root and regain hope. How can I read about the Rev. Toua Vang in planting Hmong Churches and not get pumped up? Or when I am challenged by a new idea like the Lutheran-Episcopal campus ministry that led to a farm church at The Abundant Table., how can I do other than rejoice. I find this work inspiring and I am not alone. We are seeing community gardens like Food for a Thousand at St. Patrick's Episcopal Church in Albany, Georgia inspired by the ministry they saw elsewhere across the church. The garden in Albany then further inspires others.
TRUTH 5 – Church Plants Are Risky
As long as I am telling the truth, I need to name that starting new churches is risky. Not all will survive. In Evangelical church circles, I read that 4 in 5 new churches won't survive the first few years. Here in Georgia, we have started five new congregations since 1999 and two of those have closed since their founding. This is painful and true. Yet, we learned from those experiences. And as we have learned a lot as a denomination, our success rate improves. Those new churches that follow best practices like those Susan Brown Snook describes in her book, and those practices shared in Episcopal conferences like Plant My Church, will have increased chances of success. We will never reach 100%, with every new start founded still around in 20 or more years. But if we had not attempted new work out of fear of failure, the Diocese of Georgia would have three fewer congregations and hundreds fewer Jesus' followers gathering to worship each week. More importantly, the many lives changed by our savior would have been left untouched, at least by us, had we not decided to take the risk and start new churches.
Why Plant New Churches?
Susan Brown Snook's post Treasure to Share: Why Plant New Churches makes an excellent case for this work based on the research for her book. Finally, Adam Trambley explains the Church Planting Resolution, sharing the vision which animates the resolves.

The Episcopal Church of the Nativity in Scottsdale, Arizona.