Nothing Will Separate Us — A Eulogy for Butch Chan
The Rev. Canon Frank Logue gave this sermon at the Cathedral of St. John the Baptist
in Savannah, Georgia on September 12, 2010
Romans 8:14-39 and John 11:21-27
We have been separated from Butch Chan. The chief has died, and this side of heaven, we will see him no more. This loss has been amplified by his all-too sudden and unexpected death being followed by an interminably long time of waiting for his mortal remains to return to Pooler. The separation has been painful. And as banners and signs through the City of Pooler attest, the loss has been deeply felt by many.
As the Chief's personal assistant Sandy Talley put it, "Somebody will take his position, but no one can take his place."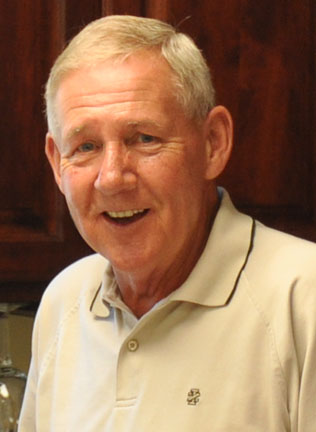 That is so true as I have heard again and again over this past days people tell me what an amazingly good boss the chief was. As Major Tony Smoak of the Sheriff's Office put it, "He was a great leader who always took time out for other people." Sheriff Al St. Lawrence called him "A cop's cop," then added, "I don't know anyone who has a bad thing to say about Butch."
Corporal Blair Jeffcoat offered some insight into this. Blair grew up with Butch's sons Peter and Steven and as a teenager, he would go to the Police Chief's office and Butch would always make time for him and encourage him. After working for years for other police departments, he finally came to work for Chief Chan he saw how Butch treated everybody as an equal. And if you did something wrong, the Chief would call you into his office and chew you out. But after he had his say and you had listened, he was done with it. He was back to being friends.
It was his sense of humor that came through in every situation. Without pausing a beat, Butch would have something funny to say. Port Wentworth Police Chief James Melvin remembers that, "Butch was always quick with a quip, joke, or sarcasm at any given time about any issue. If he thought of it, he said it."
Major Doug Burkhalter was a good friend with Butch for over 40 years and I have to say, the really good stories he knows about Butch are not going to be shared here today. But before we make the chief into too much of a saint, let me share that Doug told me how when he was a Sergeant and Butch was a Lieutenant, they would all smoke in the detectives' room. The newspaper was always around and Burkhalter remembers more than once reading the paper and noticing Butch had lit it on fire while he was reading it.
There are a lot of stories like that of Butch having fun, loving and enjoying life and playing jokes. And he could keep his golf game in the low 80s, which puts him beyond some of the rest of us. I don't want us to lose sight of the very real and human Butch Chan even as we gather to give thanks for his life and so extol his virtues.
I know Butch and Laura Chan through their church where for more than two decades they have been the faithful center, the calm steady presence for their church family. Butch was dedicated to Holy Angels Episcopal Church which a few years ago changed its name to St. Patrick's Episcopal Church. His dedication to his church was complete and you could count on Butch to work on the grounds long and hard, keeping the grass cut and limbs picked up. He was faithful in attendance and in leadership.
Yet there at church too, it was the same Butch that lit Burkhalter's newspaper on fire years before. Marye Pope who knows Butch from St. Patrick's says, "Most of all my fondest memories of Butch were of his sense of humor. It didn't matter what or how serious the situation, something silly was going to come out of his mouth. He'd even got tickled once or twice serving communion, especially when Laura pinched his on his cheek."
But the Chief who touched so many was the Police Chief with a forgiving heart. As Major Mark Revenew, who worked with Chief Chan in Pooler for more than 20 years, puts it, "Many times officers would leave the department for better opportunities, some without adequate notice, or with harsh closing words. More often than not, they would always want to come back. He never carried a grudge, or had any hard-feelings, despite how they may of left. He always hired them back and welcomed them with open arms. We've had some officers leave two or three times and he always agreed to take them back."
He would also fight to give cops a second chance after they messed up in some way. Revenew added, "St. Michael is the patron saint of Police and Firefighters, but Butch was like St. Michael's earthly liaison."
Steven Chan tells of his Dad, "If you screwed up, he wouldn't kick you to the curb. He believed in a second chance…and a third chance." Steven also shared the time that he and his brother Peter made eggs and didn't get the shell out of them. Their Dad ate the eggs as if nothing could have tasted better as he crunched on the shells.
His son Peter recalls a Dad who was "Always fair. Always. And never went back on his word. Never." That is the same Butch Chan you knew at the City of Pooler and at St. Patrick's Church. There was no Butch when people were looking and another Butch when no one was paying attention. There was the same always smiling, calm, optimistic Butch Chan. It seemed as if Butch treated every single person the same, whether the smelliest down and out homeless person or the mayor.
But I need to let you in on a little secret. Butch didn't treat everyone the same. Oh, maybe he did before his first grandchild was born. But as his five grandkids came into the world, treating everyone the same was all over. Clark told me he enjoyed his Grandaddy reading him books and going swimming with him and lots more. With all the grandkids he continued something from Laura's Dad. He would always say, "How come I love you like I…" and then he paused and they would respond, "Do. Do. Love you."
No, Butch never loved others quite so unreservedly as he loved Dayton, Austin, Colson, Clark and Larson. Larson. Let me tell you. After the man who had two sons got a granddaughter, you could forget all about everyone on the planet being equal, for there was no one quite the apple of his eye like his granddaughter Larson. But they all knew they were loved by their grandfather. Just as Peter and Steven knew their Dad loved them and Laura knew Butch loved her. It was certain. You knew that love and could count on it. And if you saw Butch and Laura together, you knew them to have a special bond.
As I talked to many of you preparing for this funeral, we wondered together how Butch could do it. Why could he always smile, always stay calm. Always see the best in someone? I discovered something about Butch over this past week or so. Something I didn't know and I suspect very few in this Cathedral know.
Butch had a hard childhood. You could guess some of that as the only blue-eyed Chan in Chatham County, Butch was known to have taken his stepfather's name when he joined the Navy. Butch was proud to take Sandor Chan's name. But cutting yourself off from your father's name is not a step taken lightly. But that wasn't all. Butch grew up poor and I don't mean a little poor. At one point, Butch's Mom had to place him in an orphanage for a little while as she couldn't put together enough to keep him with her. Their relationship was tough.
This is the sort of thing that only close family knew, but not many others. His son Peter says his dad told him his Mom would beat him with a leather strap if she got mad and when his Dad came home he would be beaten even more for upsetting his mother. And while his stepfather and the Chan family treated him well, Sandor Chan was not the only man in his mother's life. There were other men and they were hard on Butch. I don't want to overstate things. There is always someone who has had it worse, but Butch grew up dirt poor, abused and with no real relationship with his parents. This isn't easy to share, but it matters. This may be the most important fact for us to share this day, for it reveals the miracle that occurred within Butch's heart that is possible within all people.
There is many a poor and battered boy who grows up to be a hard and abusing man. That is the path of least resistance. But that was not Butch. No one ever gave him a thing. He had to make his own way in the world and he made it to be Doctor Chan, to teach college and to be a great Chief of Police for the City of Pooler. Now this also accounts for why Butch held parents accountable. If your kids had a wild party that got out of control, he wouldn't just hold the teens accountable, but their parents as well. You can see where that concern came from in his own life.
And I am convinced that this as well as all the other ways he was unique were not because of his upbringing, but because of what he did with his own upbringing. His son Steven put it like this, "The biggest life lesson he taught me, he never knew he taught me: No matter how bad you've got it, you can always better yourself." You have a choice and you can do something good with the bad hand life has dealt you.
Butch transformed the wrong he had suffered to be a man who would treat others right, always. This is how he could, grandchildren aside, treat everyone as an equal no matter who they were. The Butch who was left in an orphanage would leave no one out of his life. His door was always open. His heart was always open.
In our reading from the letter to the Romans, the Apostle Paul writes movingly and I want to share this scripture and then bring it back to Butch's life. Paul said, "Who will separate us from the love of Christ? Will hardship, or distress, or persecution, or famine, or nakedness, or peril, or sword?"
Butch did not let poverty or an abusive family life separate him from God's love. His background caused him to draw closer to God's love. As Paul puts it, Butch was more than a conqueror through Christ. Butch experienced the love of God. Rather than judge himself the way others seemed to, Butch came to see himself through God's eyes. His mother and the men in her life did not always treat Butch as they should. Rather than destroying his sense of worth as it might have done another man, it led to Butch seeing the worth of everyone.
In our reading from John's Gospel Martha's brother Lazarus died. When Jesus arrives at their home, Martha says, "Lord, if you had been here, my brother, Lazarus, would not have died." We do not share this view. We know that Jesus was there with Butch when he died and he was with him beyond death. He was also with Laura when Butch died and has continued to surround her and her boys with that same love, often come in unexpected way through people showing God's love.
Jesus went on to tell Martha and through the Gospel of John he tells us, "I am the resurrection and the life. Those who believe in me, even though they die, will live, and everyone who lives and believes in me will never die." Then he asked her, "Do you believe this?"
Butch Chan did believe this. Butch put his whole trust in God and lived his life, as best he could, to see others as God sees them. Therefore nothing could ever separate Butch from the love of God. He was, with Paul and all the faithful Christians that have gone before him, convinced "that neither death, nor life, nor angels, nor rulers, nor things present, nor things to come, nor powers, nor height, nor depth, nor anything else in all creation, will be able to separate us from the love of God in Christ Jesus our Lord." And nothing has separated him from that love. Butch is now with his loving Lord.
And for those of us who mourn—the Pooler Police Department and the whole City of Pooler Family; the law enforcement community here on the coast and beyond; the St. Patrick's Episcopal Church Family; and Laura, Peter, Steven and the whole Chan Family—nothing can separate us from the love of God either. Yes, Butch's death was sudden and we were not prepared for it. But Butch was prepared in that he had put his trust not just in things of this earth. Butch put his trust in God.
And so we mourn as those with a sure and certain hope that life for Butch is changed, but not ended. The same Jesus Christ who saw Butch through a childhood none of us would have ever wished on any boy, has seen him cross from life through death to the life eternal. While we have been separated from Butch, Butch has never been separated from God. So even as we mourn, we can make say with boldness, alleluia, alleluia, alleluia. Praise God, who gave us Butch Chan and redeemed him, and risen him to the life eternal.
Amen.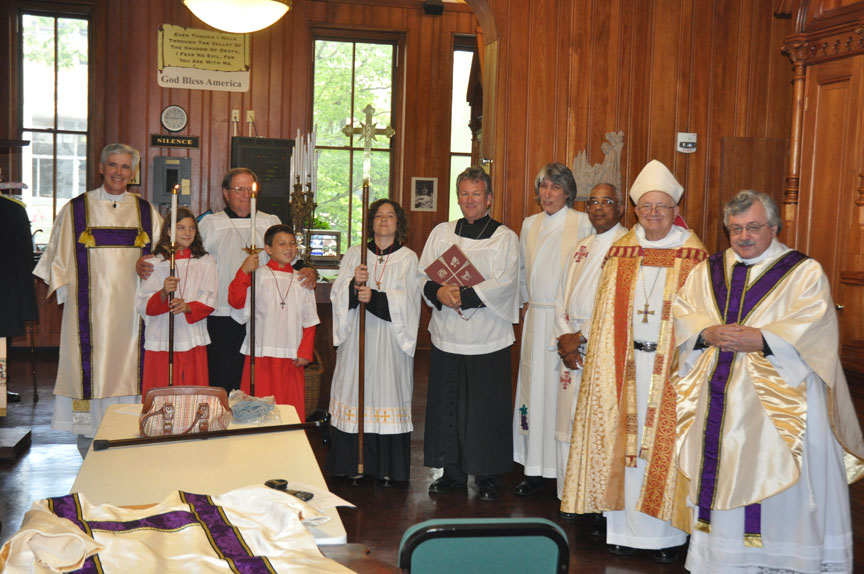 The altar party was from St. Patrick's Pooler and others with a connection to the congregation.