You have just experienced a Holy Lent leading to a meaningful Holy Week and a gloriously joyous Easter. With a nice long nap behind you, why not think again about taking on a seven-week Advent this year?
Historically, the season of Advent was the seven Sundays leading up to Christmas, with the days in between. Currently, and in an unbroken tradition that is centuries old, those in Eastern Orthodox churches celebrate seven Sundays of Advent. The readings in the RCL do not have to be changed to observe this longer season of preparation for both the first coming in Bethlehem or Christ's second coming at the end of time. In fact, the readings in these last three Sundays of the church year are designed for a longer Advent. One goal of this move is to reclaim the time for preaching and teaching about the second coming as was traditionally part of the season and remains so in truncated form now.
Together with six other congregations in the US and Canada, King of Peace Kingsland too part in an experiment while I was there to expand Advent to its historic length. We used Rite II Prayer B Penitential Eucharist. The prayers of the people are changed weekly, adapted from those in Liturgy Training Publication's Intercessions for the People. We used a seasonal blessing for Advent from the Book of Occasional Services. We also used liturgist Bill Petersen's seven Advent collects written for this project (which I can send to interested persons).
In previous years, we had an Advent wreath on the way into worship and replaced that with a seven candle stand to show the same season is lengthened. Music was a huge challenge, but we made it work. This needs improving over time. Some hymns from the Lutheran Book of Worship helped us expand available music. We sang O Come, O Come Emmanuel in the spot of a hymn of praising with verses 1 and 2 in week one, verses 1 and 3 in week two and so on. The preaching reflected seasonal themes found in the texts each week.
Making Advent a Little Lent Once More
For Episcopalians, Lent involves some changes to both corporate worship and one's daily life, where Advent involves solely changes in corporate worship. This would need to change in order to transform a congregation's experience of Advent.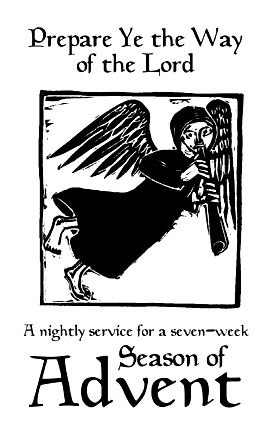 In earlier years, King of Peace offered materials I created on Celebrating Advent in the Home (see www.kingofpeace.org/advent/ ). My wife, Vitcoria, and I revised the booklet last year to take in a seven-week Advent. It is online here: Prepare Ye the Way of the Lord. Victoria and I also feel that an Adventen discipline is in order, hopefully different from Lent. This would take thought and preparation, but could be important. I think suggesting that families take on an Advent discipline specifically designed to counter the rampant concumerism of the season is the direction to go.
Why not make Advent even more counter-cultural at a time of year when the message of the culture (Buy More Stuff to Be Happy) most needs to be overturned? I raised this idea last fall, and offer this reminder to consider how a longer Advent might be a helpful antidote to the season. This is particularly true when Advent starts before the post-Thanksgiving rush. Is this the year for your congregation to return to the historic pattern of a seven week Advent?
The Rev. Canon Frank Logue
Canon for Congregational Ministries