I am glad to have teamed up with others in the Acts 8 Movement to create a video Episcopal churches may use for free to advertise their Easter liturgies. Following the success of my Lenten cartoon, this year's Easter invitation is made in the same style. You may download the video below to post to your own Facebook page, or just link to one of the YouTube videos found here, or to the Facebook videos posted on the Acts 8 Movement Facebook page.
EasterCartoon-English.mp4
The English language video file
EasterCartoon-Spanish.mp4
The Spanish language video file
Animated GIF files for those who want to experiment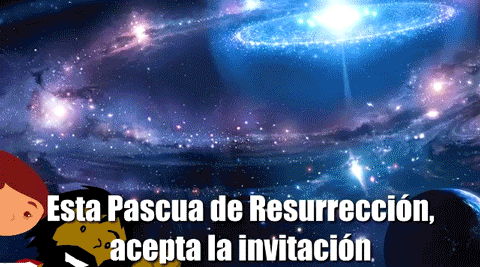 This past Christmas, The Diocese of Central New York used the Acts 8 video to invite their neighbors to worship in the churches of the Diocese. You can read about their test and what they learned: How we invited 5,000 Central New Yorkers to Join Us for Christmas. In response to their idea to use a catchy graphic in a side by side test, we are offering a short, animated GIF file, which Facebook permits in its advertising. DO NOT upload the GIF file to Facebook as the image will default to a still frame. Instead, place the file online and point to that file when creating the Facebook ad. This option only works for those advertising on Facebook. Click here for more information: How to Post an Animated GIF on Facebook
EasterCartoon-English.gif
The English language animated GIF file
EasterCartoon-Spanish.gif
The Spanish language animated GIF file
Another Video Option in Nine Different Languages
Acts 8 still offers the 2016 Easter video which I made. That video includes the voice of the Presiding Bishop Michael Curry in the opening line and is available in nine of the languages in which our church worships: Your FREE Easter Invitation Video.
Peace,
Frank
The Rev. Canon Frank Logue
A Note About Permissions
I created the animations using the website Animaker in keeping with their business license agreement so that there is no cost to any church. Earnest Graham drew the SuperHero Jesus character especially for this video. Adam Trambley wrote the script with his daughter, Julia, providing the English language voiceover. Sandra Montes recorded the Spanish language voiceover using her brother, Alex Montes-Vela's Spanish language translation of the text. All of this is our gift to you.